FuguHub
Manage Data Your Way

Home users with broadband connection
The following is one of many possible use cases for the HTTPS tunnel:
When you are at your home computer, you access your Internet Service Provider's mail server directly by using the ISP WAN (Internet Service Provider Wide Area Network).
When you travel, you may not have access to your ISP's mail server for two reasons:
Your ISP does not provide web email, and your ISP blocks access to the mail server unless the request is from the ISP WAN.
You are using a WiFi hotspot, and the hotspot blocks all email traffic.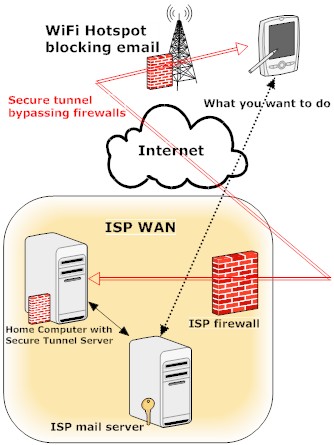 The tunnel solves this problem by providing a secure tunnel between your PDA/laptop and your home computer. The tunnel makes your PDA or laptop appear as it is connected to your local home network, and you may, therefore, access all services available to your home computer.
The tunnel also allows you to access your ISP's mail server from any computer, without requiring any software installation, such as from an Internet cafe.