Large File Mailer
The File Mailer is integrated with the FuguHub Web File Manager. Files of any size can be uploaded using drag and drop into the Web File Manager or by using WebDAV. These files can then be sent as email attachments or links to individuals or to predefined lists. Files can be emailed to an unlimited amount of lists and each list can have an unlimited amount of contacts.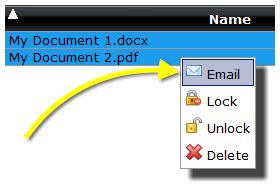 Since the File Mailer is built on top of the existing multi user Web File Manager, users with access to the Web File Manager can email any file they have access to via the constraints set by the administrator.
Users with access to the File Mailer Administrator Panel can also create and manage contact lists, manage mail jobs, view the download history, etc.
You need the File Mailer if any of the following applies to you:

Require secure and encrypted distribution of any type of non tangible items.
Require distribution of files that are too big for regular email.
Require easy distribution of data to many, even a very large number of, customers/contacts.
Require tracking of the data distributed, or require verification of delivery.
Require customized data for each customer/contact in a distribution list. Data can be customized by using the optional batch processing engine.

Video:
Email Marketing
The Large File Mailer can also be used as an e-mail marketing tool. See our E-Mail Marketing Tutorial for more information.
The File Mailer's intuitive web interface resembles a standard email client's graphical user interface and provides features such as auto completion on email addresses found in the contact database. Start typing and a list of possible email address matches are shown. Contacts are automatically added, if not already in the database. Large contact lists can be imported by dragging and dropping the contact list onto the File Mailer Web Interface.
The messages sent to contacts can be personalized by using macros. For example, a personal greeting message can be customized for each recipient.
The File Mailer tracks every file downloaded. The advanced history viewer gives you detailed download statistics such as: who downloaded the file, what time the file was downloaded, and from what location.
The File Mailer is designed to make distribution of sensitive material secure
| | |
| --- | --- |
| The file links emailed to contacts can be set to require a secure connection i.e. a HTTPS connection. The links can also be set to require a password from the recipients before they are allowed to download the file. You can also set an expiration date on the distributed links. In addition, the distributed links can be invalidated at any time by terminating the mail job. | |
The File Mailer includes an optional batch job processing engine that makes it possible to customize the file downloaded for each recipient in the distribution list. Batch jobs may, for example, be used by software vendors to distribute software to their customers when they require a customized file for each contact in the database.