Using NetDrive with the FuguHub server
Note:
NetDrive has a problem with non English letters. We recommend a more commercial grade WebDAV client such as
WebDrive
if you use non English letters in file names.
The following instructions are for: installing and configuring the NetDrive WebDAV client for connecting to your FuguHub server and for assigning a drive letter on your PC to your FuguHub server.
Download and install NetDrive.
Use a browser and navigate to your FuguHub server. We use realtimelogic.info in this example. You cannot use this server; you must navigate to your own server or the server you have been assigned to.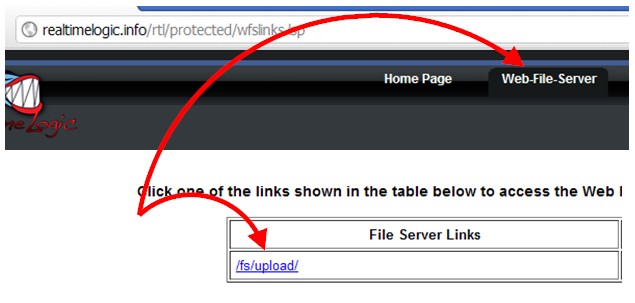 Navigate to the internal FuguHub user interface, e.g., https://your-domain-name/rtl/
Click the "Web-File-Server" link at the top and login.
On the "Web-File-Server" page, click one of the links presented, i.e., one of the directories you have access to. We have access to one directory in the example image shown above.
---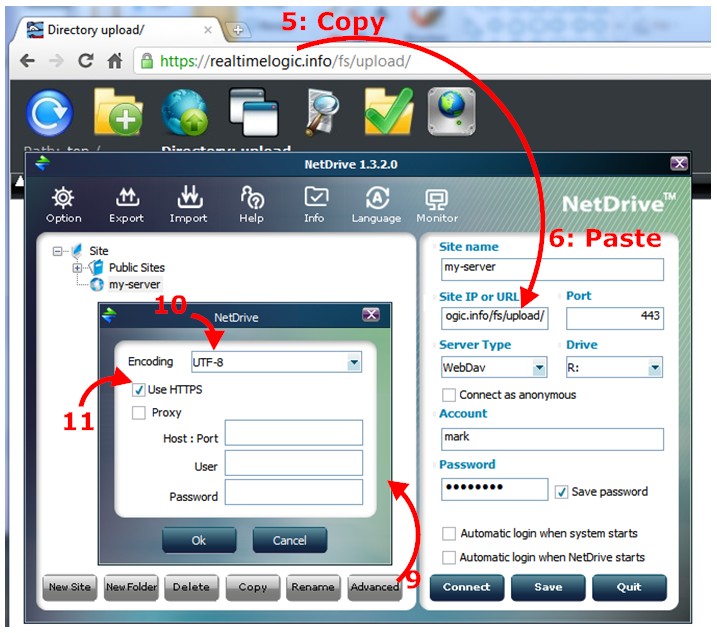 Start NetDrive
Click "New Site"
Enter a name for the connection
Click Server Type and select WebDAV
Switch to your browser and copy the browser URL from the FuguHub Web File Server
Paste the URL copied from your browser into the "Site IP or URL" field in NetDrive. Note: make sure the url starts with https://
Click the Account field and enter your FuguHub username
Click the Password field and enter your FuguHub password
Click advanced
Select UTF-8 as the encoding
Click "Use HTTPS"
Click OK: The port should change to 443
Optionally click "Automatic login when system starts" or "Automatic login when NetDrive starts"
Click Save
Click Connect